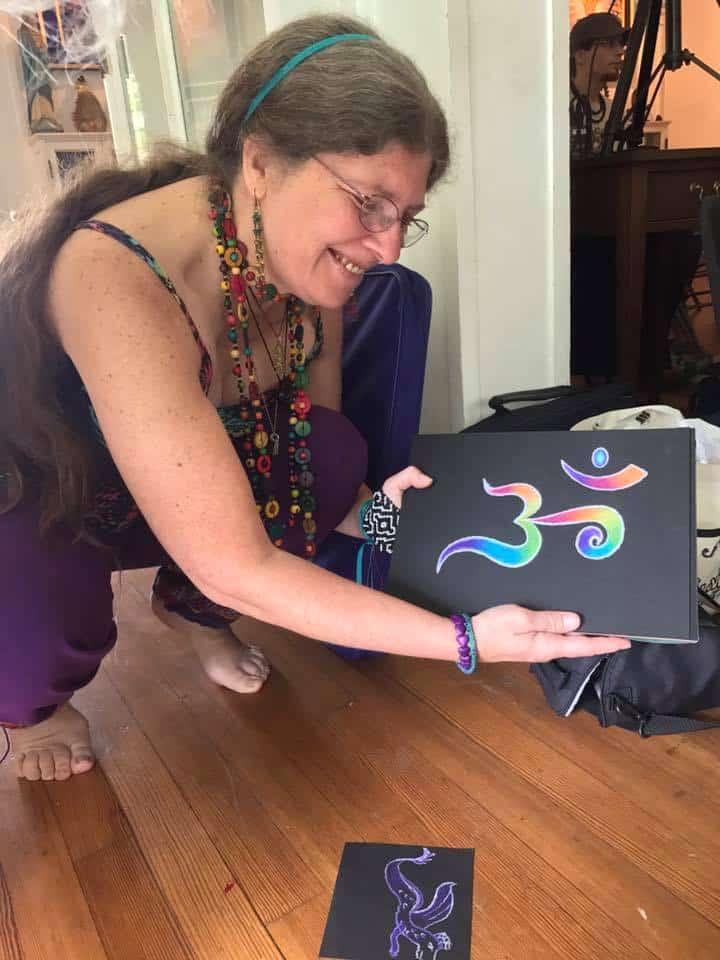 Sharing "Full Spectrum Aum" at CoSM Art Church
Photo by Eileen Rose
"Full Spectrum Aum"
Colored pencil on black paper by Hilary Oak
Hilary Oak
I have always been involved in the arts in some way or another.

My first love was theatre. I attended the High School of Performing Arts in New York City. I studied acting and discovered the wonders of stage production. I went on to study costume design, stage lighting, and scenic design in college. I received my B.F.A. in Theatre Design from S.U.N.Y. Purchase.

After college, I worked freelance for many years while living in Minneapolis, MN. I worked as a costume and props designer, fiber artist, millinery designer, and theater craftsperson.

When I moved to the Adirondacks of northern New York, I worked for St. Lawrence University as their costume designer, costume shop manager, and design instructor. I also worked as a freelance designer, adjunct teacher, and costume shop manager for S.U.N.Y Potsdam's Drama Department, the Crane School of Music's opera program, and the NY Renaissance Festival.

In 2010, I founded the Creative Spirit Art Center in Potsdam, NY. Later that year I became the president of the St. Lawrence County Arts Council. After 5 years of rebuilding that organization, I stepped down from the board to become their first paid executive director for the next 7 years.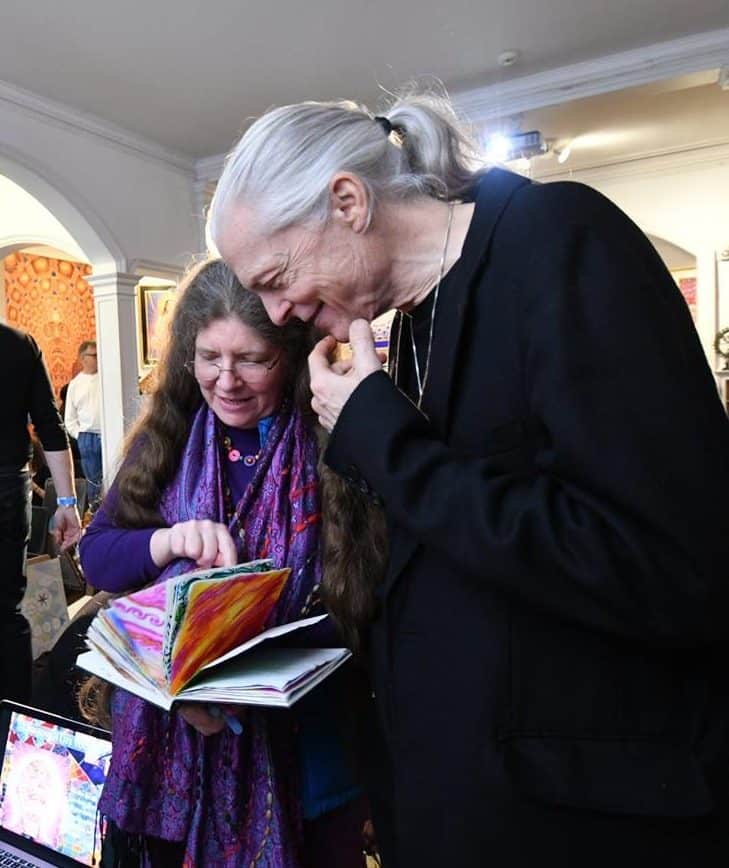 Hilary Oak and Alex Grey at CoSM - the Chapel of Sacred Mirrors
Photo by Dave DiPietro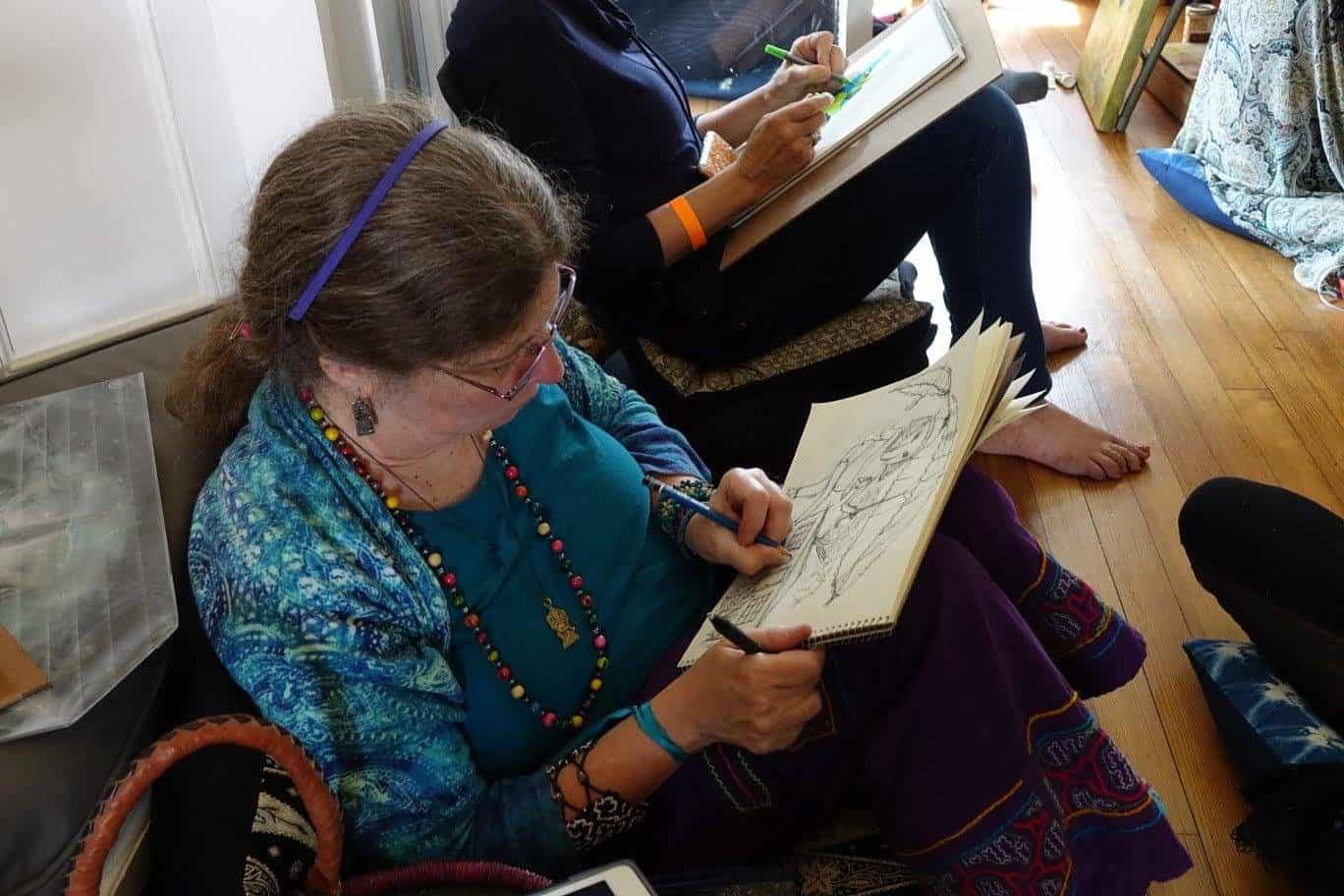 Hilary at CoSM Art Church - Photo by Dave DiPietro
I moved to the Hudson Valley of New York in 2015, inspired in part by taking a Visionary Art retreat taught by Alex Grey and Allyson Grey at the Omega Institute. This experience re-connected me with my own creativity. It also introduced me to the Chapel of Sacred Mirrors, or CoSM, the visionary art center that Alex and Allyson run in Wappingers Falls, NY.

I was at an Art Church session at CoSM when I got my first taste of working in digital media. I was hooked! My dearest Tem Noon saw how excited I was by this art form and gave me an IPad and Apple Pencil for my birthday.
It opened a whole new art world for me.
CoSM is also where I met Tem, so destiny was obviously in the driver's seat.

Most recently, in the Spring of 2021, I took an online course on Surface Pattern Design with Bonnie Christine. It ignited my creativity and inspired me to focus my own voice as an artist. For so many years, I have supported the creative visions of others. Now I am dedicated to sharing my art in the form of lots of cool things, and putting them out in the world.

The future is bright with lots of new ideas for designs! I'm looking forward to seeing where this will take me. Licensing my art to manufacturers for fabric, gift wrap, clothing, and packaging is another avenue I plan to explore.

Thank you for supporting my journey.
Come back often and see the evolution!

Love & Ribbons
Hilary